Main content starts here, tab to start navigating
Sunday Brunch
Sunday Brunch Served 10AM to 3:00PM
Download PDF
Brunch Hors D'oeuvres
Pain Et Beurre Échiré

Assorted bread from our friends at Magnol French Baking, Echiré butter

$6

Le Parisien (Continental)

Choice of one croissant or chocolate croissant and a half baguette with Bonne Maman preserves

$12

Bisque De Homard en Croûte

Lobster bisque in puff pastry

$13

Gratinée de Ravioles

Comté filled ravioles, gruyére cream sauce

$14

Charcuterie Du Jour

Chef's assortment of cured meats and pâté, traditional garnishes

$18

Chariot De Fromages

Assorted domestic and imported cheese

3 Cheeses $12

5 Cheeses $20

7 Cheeses $26

Escargots De Bourgogne À L'ancienne

Classic escargot in garlic butter with baguette

6 Escargots $16

12 Escargots $29
Raclette & Baguette
Raclette Cheese Sandwich on Crisp Baguette, Smoked Paprika Aioli, Cornichon, with Or without Bayonne Ham

Raclette $16

With Bayonne ham $19
Brunch Entrées
Couscous Aux Legumes Et Piment D'espellette

Couscous with roasted vegetables, basil oil, espellette pepper

$18

Pain Perdu

Traditional baguette French toast, vanilla chantilly cream, mixed berries, Vermont maple syrup

$13

Omelette Aux Champignons Et Herbes

Seasonal mushroom and fines herbs, French country potatoes

$14

Lobster Benedict

Butter poached Maine lobster, English muffin, poached eggs, hollandaise

$26

Ōra Saumon fumé et Pavé de pommes de terre, crème fraiche, câpre, œuf de truite fumé

Ora King Smoked salmon and potato pavé, with Crème Fraiche, Capers berries and Trout Roe

$25

Vol-Au-Vent Aux Epinards

Creamy spinach and blue crab vol-au-vent

$18
Garnitures
French Country Potatoes

$7

Bacon

$7

Toasted Pain De Mie

$3

Mixed Berries with Vanilla Chantilly Cream

$7
Avec Les Frites
With Fries | Steaks served with maître d'Hôtel butter
Additional Sauces

Cognac peppercorn, Béarnaise, red wine shallot demi-glace, Roquefort cream

$4

Le Steak

New York Strip, 12oz

$31

Pavé De Saumon

Classic skin-on salmon filet, Béarnaise sauce

$25

Demi-Poulet Roti

Half rotisserie chicken with natural jus

$19

Quart De Poulet Roti

Quarter rotisserie chicken with natural jus

$14
Salades & Sandwiches
Endives Aux Noix, Cresson Et Réduction De Figues Au Balsamique

Belgian endive with candied walnuts, Auvergne blue cheese, balsamic fig glaze

$16

Salade Mon Chou Chou

Butter lettuce salad, shaved radishes, house vinaigrette

$12

Croque Madame

Pain de Mie, Jambon de Paris, Mornay, tomato, fried egg, French country potatoes

$14

Cheeseburger Mon Chou Chou

French burger with Gruyère cheese, roasted shallot sauce, fries

$18

Salade de Chèvre chaud

Warm marinated goat cheese, herbes de Provence, frisée, figs and walnut oil

$14

Salade Niçoise

Butter lettuce, tuna, hard boiled egg, white anchovy, Niçoise Olives

$15
Desserts
Crème Brûlée À L'ancienne

Old fashioned crème Brûlée with mixed berries

$7

Coupes Glacées: Fruits Des Bois, Chocolat Liegeois, Pêche Melba

Mixed berries, raspberry sorbet, vanilla ice cream, Chantilly cream $8

Peach melba, vanilla ice cream, raspberry coulis $8

Liegeois, vanilla and chocolate ice cream, Chantilly cream $8

Mocha Pot De Crème, Caramel Sel De Mer, Crème Chantilly

Coffee and chocolate pot de crème, sea salt caramel, chantilly cream

$7

Profiteroles Au Chocolat Et Amandes

Pâte à choux with dark chocolate, vanilla ice cream, almond

$6

Soupe de Fraises

Summer Strawberry Coulis, Toasted Angel food cake and French vanilla ice cream

$11

Tarte Citron

Lemon Tart, Chantilly cream and fresh raspberry

$7
Eat Well, Laugh Often, Love Abundantly.
— FRENCH PROVERB
First Course
Pain et beurre Échiré

Assorted bread from our friends at Magnol French Baking, Échiré butter

$6

Sandwich Au Fromage Raclette

Raclette cheese sandwich on crisp baguette, smoked paprika aioli, cornichon, with or without Bayonne ham

Raclette $16

with Bayonne ham $19

Gratinée Lyonnaise

Lyon-style onion soup with Emmental cheese and Cognac

Cup $8

Bowl $11

Bisque De Homard en Croûte

Lobster bisque in puff pastry

$18

Charcuterie Du Jour

Chef's assortment of cured meats & pâté, traditional garnishes

$18

Plateau De Fruits De Mer

Carefully selected East Coast oysters, crab stuffed mussels, ½ Parisian lobster

MP

Tarte Aux Champignons Avec Petite Salade Frisée Et Ail Noir Du Texas

Mushroom tart with small frisée salad and Texas black garlic

$14

Chariot De Fromages

Assorted domestic and imported cheese

3 Cheeses $12

5 Cheeses $20

7 Cheeses $26

Gratinée de Ravioles

Comté Filled Ravioles, Gruyère cream sauce

$14

Escargots De Bourgogne À L' Ancienne

Classic escargot in garlic butter with baguette

6 Escargots $16

12 Escargots $29

Tartare aux deux Saumons

Salmon tartare, dill cream fraiche, fried capers.

$15

Plateau d'Huitres

Daily East Coast Oysters on the half shell

Each $3.75
Salads & Sandwiches
Salade de Chèvre Chaud

Warm marinated goat cheese, herbes de Provence, frisée, figs and walnut oil

$14

Endives Aux Noix, Cresson Et Réduction De Figues Au Balsamique

Belgian endive with candied walnuts, Auvergne blue cheese, balsamic glaze

$16

Salade Mon Chou Chou

Butter lettuce, shaved radishes, house vinaigrette

$12

Cheeseburger Mon Chou Chou

French burger with Gruyère cheese, roasted shallot sauce, fries

$18

Salade Niçoise

Butter lettuce, tuna, hard-boiled egg, white anchovy, Niçoise olive,

$15

Sandwich au Brie et jambon de Bayonne

Grilled Brie and Bayonne ham sandwich, baby arugula, Quince glaze

$18
Sides
Carottes Vichy

Lightly glazed baby carrots

$7

Fondue de Poireaux

Leek fondue

$7

Gratin De Macaroni

Baked macaroni and cheese

$7

Pomme Frites

French fries

$7

Haricots Verts Maison

Homestyle French green beans

$7
Avec Les Frites
Steaks served with maître d'Hôtel butter
Additional Sauces

Cognac peppercorn, Béarnaise, red wine shallot demi-glace, Roquefort cream

$4

Le Steak

New York Strip, 12 oz.

$31

Filet De Bœuf

Beef tenderloin, 8 oz.

$41

Entrecôte

Boneless ribeye, 14 oz.

$45

Steak Tartare

Tartare with capers, egg, shallot

$19

Pavé De Saumon

Classic skin-on salmon steak, Béarnaise sauce

$25

Demi-Poulet Roti

Half rotisserie chicken with natural jus

$19

Quart de Poulet Roti

Quarter rotisserie chicken with natural jus

$14

Confit De Canard Au Poivre Vert

Crisp duck confit in a green peppercorn sauce

$25

Cordon Bleu de Veau

Classic Veal Cordon Bleu, Parisian ham, Emmental cheese, pan butter

$29
Entrées
Carré D'Agneau, sauce Bordelaise, pavé de pomme de terre

Broiled double lamb chops, crisp potato cake, Bordeaux red wine sauce

$46

Loup De Mer Au Four, Pommes Château, Haricots vert

Baked branzino with brown butter caper sauce, fondant potatoes, French green beans

$35

Lotte A La Provençale

Pan Roasted Monkfish, Crisp Heirloom Potato, Roasted Garlic, Olives, Tomato with a White Wine Cream Sauce

$36

Boudin blanc, sauce Périgueux et purée de pomme de terre

Veal and pork sausage, potato purée, truffled Madeira sauce

$17

Couscous Aux Legumes Et Piment D'espellette

Couscous with roasted vegetables, basil oil, espellette pepper

$18
Dessert
Crème Brûlée À L'ancienne

Old fashioned crème Brûlée with mixed berries

$7

Coupes Glacées: Fruits Des Bois, Chocolat Liegeois, Pêche Melba

Mixed berries, raspberry sorbet, vanilla ice cream, Chantilly cream $8

Peach melba, vanilla ice cream, raspberry coulis $8

Liegeois, vanilla and chocolate ice cream, Chantilly cream $8

Mocha Pot de crème, caramel sel de mer, crème chantilly

Coffee and chocolate Pot de crème, sea salt caramel, Chantilly cream

$7

Profiteroles Au Chocolat Et Amandes

Pâte à choux with dark chocolate, vanilla ice cream, almond

$8

Tarte Citron

Lemon Tart, Chantilly cream and fresh raspberry

$7

Soupe de Fraises

Summer Strawberry Coulis, Toasted Angel food cake and French vanilla ice cream

$11
Brasserie Classics
Americano

Campari, sweet vermouth, club soda, orange twist

$12

Sazerac

Rye whiskey VS sazerac, absinthe rinse, bitters, sugar cube, lemon peel

$12
Sparkling
Perfect Thyme

Sparkling wine, peach liqueur, thyme simple syrup

$10

Bougee Mimosa

Sparkling wine, orange Juice, Clément orange liqueur

$9

La Bicyclette

Crème de Cassis, Sweet Vermouth, sparkling wine

$9

French 95

Four Roses Yellow Label Bourbon, lemon juice, simple syrup, sparkling wine

$11

Not a classic Champagne Cocktail

Sugar cube Soaked in Rhubarb Bitters, sparkling wine

$9
Mon Chou Chou Creations
French Colada

Courvoisier VS, J.M. Shrubb white rum, pineapple juice, cream, crème de cassis, coconut cream

$14

Marguerite

Lalo Blanco Tequila, Clément orange liqueur, lime juice, Herbes de Provence simple syrup

$14

French Pink Fairy

Citadelle Gin, fraises des bois liqueur, lemon juice, egg whites

$12

Bordeaux Sour

Four Roses Yellow Label Bourbon, Lillet Rouge, lemon juice, maple syrup, egg whites, soda water, maraschino cherries, orange bitters

$13

Paris-Texas

Western Son's Lemon vodka and Cucumber vodka, Lillet Rouge, lemon juice and Perrie

$14
Petillant
G.H. Mumm,

Brut Champagne, France, N.V.

Glass $17

Bottle $80

Brut Rose

Val de Mer by Patrick Piuze, Chablis, Burgundy, France, N.V.

Glass $13

Bottle $60
Vin Rouge
Pinot Noir

Albert Bichot, Vieilles Vignes, Bourgogne, Burgundy, France

Glass $13

Bottle $60

Cabernet Franc

Domaine de Pallus, Messanges Rouge, Chinon, Touraine, Loire, France

Glass $11

Bottle $50

Malbec

Château Saint-Didier-Parnac, Mission de Picpus, Cahors, France

Glass $12

Bottle $55

Merlot

Cabernet Sauvignon, Cabernet Franc, Petite Verdot- Château Greysac, Medoc, Bordeaux, France

Glass $17

Bottle $80

Grenache, Syrah, Mourvedre, Carignan

Department 66, Others, Cotes Catalones, Pays d' Oc, France

Glass $15

Bottle $70

Cabernet Sauvignon

Experience, Reserve, Napa Valley, California

Glass $14

Bottle $65
Vin Blanc
Sauvignon Blanc

Kressmann, Monopole, Bordeaux, France

Glass $10

Bottle $45

Pinot Gris

Wolfberger, Alsace, France

Glass $13

Bottle $60

Chenin Blanc

Chateau Moncontour, Sec, Vouvray, Loire, France

Glass $12

Bottle $55

Chardonnay

Petit Chapeau, Bourgogne Blanc, Burgundy, France

Glass $14

Bottle $65

Chardonnay

Louis Jadot, Bourgogne, Burgundy, France

Glass $12

Bottle $55
Rose
Fleurs de Prairie,

Cotes de Provence, Provence, France

Glass $10

Bottle $45
Extended wine list available upon request
LIFE IS TOO SHORT to DRINK BAD WINE.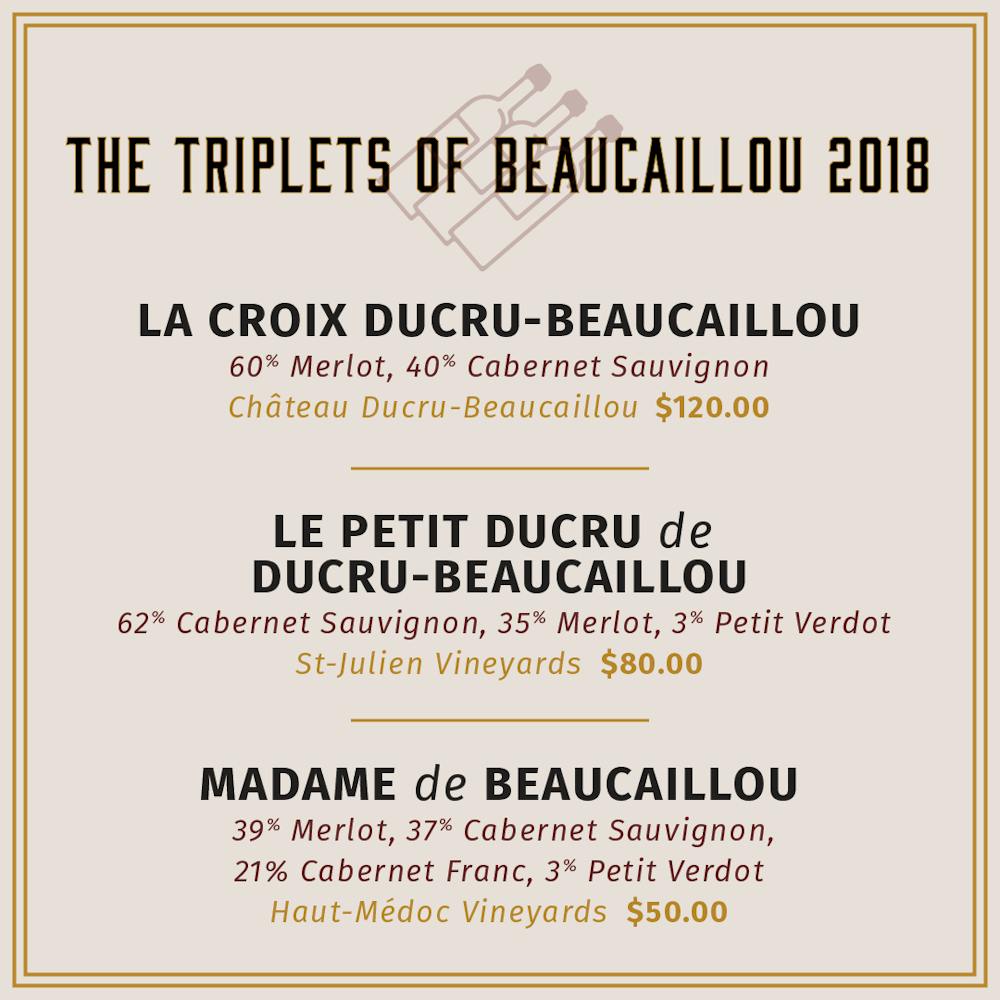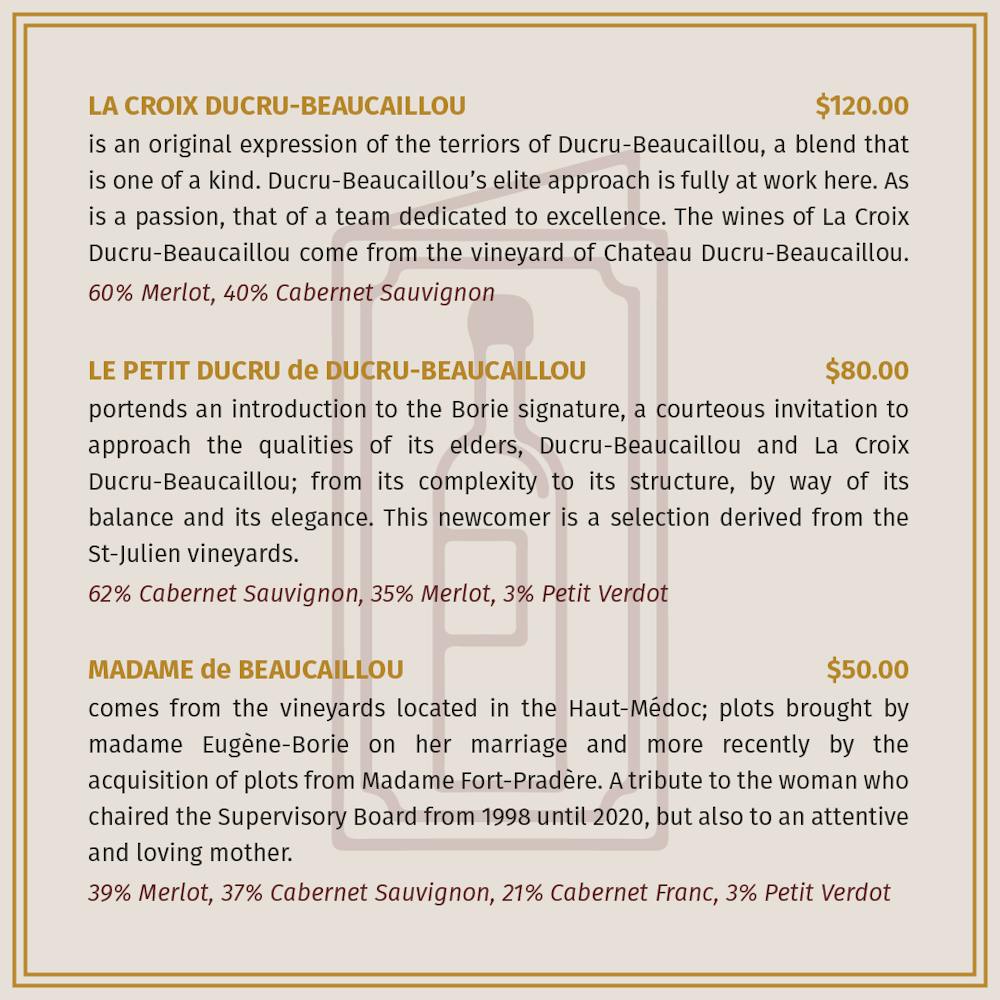 Rosé
Chateau De Campuget

Tradition, Costières de Nîmes, Rhône, 2020

$30

Chateau Guilheim

Pot de Vin, Pays d'Oc, France, 2020

$45

Gerard Bertrand

Clos du Temple, Languedoc, Cabrieres, 2019

$250
Domestic Rosé
Becker Vineyards

Provençal, Texas, 2018

$25

Cristom Estate

Rosé of Pinot Noir, Eola-Amity Hills, Willamette Valley, Oregon, 2019

$50

Ranch Rosé

Columbia Valley, Washington

$30

Gaslighter

California, 2020

$35
Vin Blanc / White Wine
Melon De Bourgogne

Marc Bredif, Royal Oyster, Sur Lie, Muscadet Sèvre Et Maine, 2107

$45

Picpoul De Pinet

Domitia, Languedoc, 2020

$30

Sauvignon Blanc

Château Favray, Pouilly-Fumé, Loire, 2019

$60

Sauvignon Blanc

Simmonet-Febvre, Saint Bris Sauvignon Blanc, St. Bris, Burgundy, 2017

$30

Sauvignon Blanc

Domaine Delaporte, Chavignol, Sancerre, 2020

$55

Sauvignon Blanc

Domaine Joel Delaunay, Touraine, Val de Loire, 2018

$35

Pinot Gris

Gustave Lorentz, Reserve, Alsace, 2019

$55

Chenin Blanc

Domaine du Viking, Vouvray, Loire, 2017

$50

Reisling

Domaine Bott-Geyl, Les Éléments, Alsace, 2017

$35

Viognier

Francois Villard, Les Terrasses du Palat, Condrieu, Rhône, 2017

$95

Gewurztraminer

Trimbach, Alsace, 2017

$55

Sauvignon Blanc, Semillion

Château Cabannieux, Graves, Bordeaux, 2015

$30

Sauvignon Blanc, Semillion

Château Les Clauzots, Graves, Bordeaux, 2017

$35

Grenache Blanc, Marsanne, Roussane, Viognier

M. Chapoutier, Belleruche, Rhône, 2020

$30

Viognier, Marsanne, Grenache Blanc

Les Vins de Vienne, Côtes du Rhône Les Laurelles, Rhône, 2016

$50

Chardonnay

Joseph Drouhin, Pouilly-Fuissé, Maconnais, Burgundy, 2019

$75

Chardonnay

Domaine De Rochebin, Bourgogne, Vieilles Vignes, Burgundy, 2017

$45

Chardonnay

Domaine Moreau-Naudet, Chablis, Burgundy, 2018

$70

Chardonnay

Château De Meursalt, Meursalt-Charmes, Premier Cru, Burgundy, 2015

$200

Chardonnay

Etienne Sauzet, Puligny-Montrachet 1er Cru, Champ-Canet, Burgundy, France, 2018

$250
Domestic White Wine
Sauvignon Blanc

Rombauer Vineyards, North Coast, California, 2020

$60

Pinot Gris

Panther Creek, Willamette Valley, Oregon, 2019

$45

Chenin Blanc

Field Recordings, Chenin, Santa Ynez Valley, California, 2019

$40

Reisling

Willamette Valley Vineyards, Willamette Valley, Oregon, 2019

$40

Pinot Blanc

J. Wilkes, Santa Marie Valley, California, 2018

$60

Chardonnay

Cakebread Cellars, Napa Valley, California, 2019

$90

Chardonnay

Morlet Family Vineyards, Ma Douce, Sonoma Coast, California, 2014

$150

Chardonnay

Laguna Winery, Russian River, California, 2017

$40

Chardonnay

Le P'tit Paysan, Jack's Hill, Monterey, California, 2018

$50
Bulles
Charles De Cazanove

Charles de Cazanove, Vieille France, Brut Rosé, Champagne, N.V.

$75

Tattinger

Brut La Francaise, Champagne

$120

Ruinart

Brut Blanc de Blancs, Champagne

$140

Ruinart

Brut Rosé, Champagne

$150

Veuve Clicquot

Champagne, 2012

$180

Krug, Grand Cuvée

Brut (169th Edition), Champagne, France, N.V.

$300
Domestic Bubbles
Mcpherson Cellars

Texas

$35

Gruet

New Mexico, Blanc de Noir

$30
Vin Rouge / Red Wine
Gamey

Pierre-Marie Chermette, Les Garants, Fleurie, Beaujolais, Burgundy, 2018

$70

Gamay

Château du Moulin-À-Vent, Couvent des Thorins, Beaujolais, Burgundy, 2017

$60

Gamay

Domaine Calot, Vieilles Vignes,Morgon, Beaujolais, Burgundy, 2017

$65

Pinot Noir

Maison Louis Latour, Mercurey, Beaune Côte-d'Or, Burgundy 2017

$60

Pinot Noir

Maison Champy, Cuvée Edme, Bourgogne, Burgundy, 2017

$45

Pinot Noir

Maison Roche De Bellene, Gevrey-Chambertain Vieilles Vignes, Côte de Nuits, Burgundy, 2017

$170

Cabernet Franc

Maison Alain de la Treille, Chinon, Loire, 2019

$45

Cabernet Franc

Paul Buisse, Chinon, Loire, 2019

$40

Malbec

Jean- Francois Mérieau, Touraine Cent Visages, Cot, Loire, 2016

$40

Grenache, Syrah

Château Puech-Haut, Prestige, Languedoc, 2017

$40

Grenache, Syrah, Mourvedre

Ogier, Boiseraie, Vacqueyras, Rhône, 2017

$60

Syrah, Grenache, Mourvedre, Counoise, Clairette

Domaine des 3 Cellier, Alchimie, Chateauneuf-du-Pape, Rhone, France, 2017

$70

Grenache, Mourvedre, Syrah

Famille Perrin, Les Chapouins, Chateauneuf-du-Pape, 2012

$200

Grenache, Syrah, Mourvèdre

Jean-Luc Colombo, Les Abeilles de Colombo, Côte du Rhône, 2016

$35

Syrah, Grenache

Château Maris, Minervois, Pays D'Oc, 2018

$30

Syrah

E.Guigal, Brune et Blonde, Côte- Rôtie, Rhône, 2017

$150

Syrah

Vincent Pairs, Sélection, Crozes-Hermitage, Rhône, 2018

$50

Cabernet Sauvignon, Merlot

Château Laffitte Laujac, Médoc, Bordeaux, 2014

$65

Cabernet Sauvignon, Merlot, Cabernet Franc, Petit Verdot |

Chateau Cos d'Estournel, Les Pagodes de Cos, Saint- Estephe, Medoc, Bordeaux 2013

$200

Merlot, Cabernet Sauvignon, Cabernet Franc, Petit Verdot

Château Madame de Beaucaillou, Haut Médoc, Famille Eugène Borie, 2018

$50

Merlot, Cabernet Sauvignon, Cabernet Franc

Château Haut-Segottes, Grand Cru, Saint-Émilion, Bordeaux, 2017

$80

Merlot, Cabernet Franc

Château Vieux Taillefer, Pavillon De Taillefer, Saint-Emilion Grand Cru, Bordeaux, 2018

$90

Merlot, Cabernet Sauvignon

Château La Croix Ducru-Beaucaillou, Saint Julien, Famille Eugène Borie, 2018

$120

Merlot, Cabernet Franc, Cabernet Sauvignon

Château Certan, De May de Certan, Pomeral, Bordeaux, 2015

$300

Merlot, Cabernet Sauvignon

Château Lespault-Martillac, Grand Vin de Graves, Pessac-Léognan, Bordeaux, 2011

$95

Merlot, Cabernet Sauvignon

Chateau Clinet, Pomeral, Bordeaux, 2016

$350

Cabernet Sauvignon, Merlot, Cabernet Franc, Petit Verdot

Château Malartic Lagraviere, De Malartic-Lagraviere, Grand Vin de Bordeaux, Pessac- Leognan, Bordeaux, 2014

$75

Cabernet Sauvignon, Merlot, Petit Verdot

Le Petit Ducru de Château Ducru-Beaucaillou, Saint-Julien, Famille Eugène Borie, 2018

$80

Cabernet Sauvignon, Merlot, Cabernet Franc

Château Mongravey, Cru Bourgeois Supérieur, Margaux, Bordeaux 2018

$90

Cabernet Sauvignon, Merlot

Chateau Lalande, Saint-Julien, Bordeaux, 2018

$105
Domestic Red
Pinot Noir

Fess Parker, Sta. Rita Hills, Santa Barbara, California, 2019

$60

Pinot Noir

King Estate, Willamette Valley, Oregon, 2018

$55

Pinot Noir

Roar, Rosella's Vineyard, Santa Lucia Highlands, California, 2018

$115

Pinot Noir

Pellegrini, Russian River Valley, California, 2018

$75

Pinot Noir

Beaux Frères, Willamette Valley, Oregon, 2019

$130

Cabernet Franc

Darioush, Signature, Napa Valley, California, 2018

$150

Merlot

Duckhorn Vineyards, Napa Valley, California, 2018

$90

Merlot

Boomtown by Dusted Valley, Washington, 2018

$40

Malbec

Lieu Dit, Santa Ynez Valley, California, 2016

$70

Zinfandel

Mount Peak, Rattlesnake, Sonoma, California, 2015

$90

Zinfandel, Cabernet Sauvignon, Petite Sirah, Charbono

The Prisoner Wine Company, The Prisoner, Napa Valley, California, 2019

$80

Cabernet Sauvignon, Merlot

Quilceda Creek, CVR, Columbia Valley, Washington, 2017

$105

Cabernet Sauvignon

Caymus Vineyards, Napa Valley, California, 2019

$180

Cabernet Sauvignon

Silver Oak, Alexander Valley, Sonoma, California, 2016

$170

Cabernet Sauvignon

Bending Branch, Newson Vineyard, Texas High Plains, Texas, 2017

$75

Cabernet Sauvignon

Misc Atlas Peak, Napa Valley, California, 2018

$220

Cabernet Sauvignon

Beaulieu Vineyards, Napa Valley, California, 2017

$45

Cabernet Sauvignon

Sparkman, Holler, Columbia Valley, Washington, 2017

$65

Cabernet Sauvignon

Faust, Napa Valley, California, 2018

$85

Cabernet Sauvignon

Memento Mori, Napa Valley, California, 2015

$350

Petite Sirah

Retro Cellars, Napa Valley, California, 2014

$75